The year 2022 is coming to an end, and it seems like a good time to recap the facts and misdeeds that made it unique and unrepeatable. What happened? What are the macro events that will remind us of it?
Let's review them together through A Year of Google Searches in Italy, the list of questions and curiosities that Italians have entrusted to the world's most used search engine.
Words of the Year in Italy
1) Ukraine
2) Queen Elizabeth
3) Russia Ukraine
4) Australian Open
5) Elections 2022
6) Putin
7) Piero Angela
8) Drusilla
9) Italy Macedonia
10) Blanco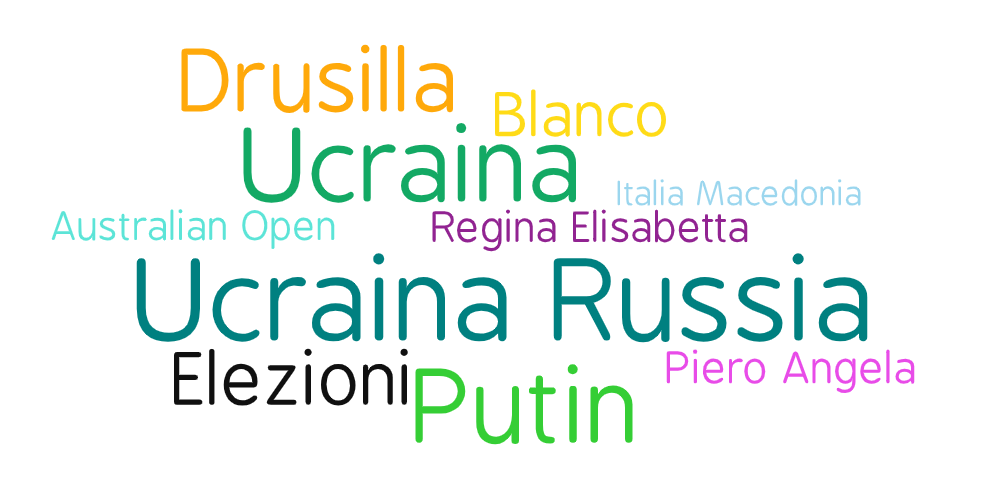 Let's begin with these words, the most searched for in 2022 by Italians. Three out of ten tell us about the Russia-Ukraine conflict, and two tell us about the evergreen interest in the Sanremo festival, with Drusilla and Blanco most intriguing Italians. Then the farewells, with Queen Elizabeth and Piero Angela among the most interesting characters. Finally, the 2022 elections and sports events, including the Australian Open and Italy–Macedonia, the fateful match that explains Italy's absence in Qatar.
Google searches 2022: the questions we asked in Italy
In detail, Google shows us the questions we asked ourselves in 2022, from which emerges a general need to find explanations for practical problems in everyday life.
Among the interests were the various state benefits, the filling in of the single cheque and Covid tests, expressed in the form of queries: users searched for information on how to carry out operations related to these topics.
The whys, on the other hand, reveal an interest in understanding the more complex issues that have characterised the last 12 months, such as the war, the rising cost of petrol, and the resignation of Mario Draghi.
They demonstrate a desire to understand the major social, political and cultural events of this year and their side effects.
What does it mean…?
1) The Z on Russian tanks
2) Horrance
3) Speaking in italics
4) One-off
5) No fly zone
6) Baiulo
7) Reinforced green pass
8) Paraclete
9) Dropping Instagram
10) NATO
Google searches 2022 vs 2021
Covid is certainly the perfect topic for a quick comparison with 2021. Italians' interest in the pandemic, as research shows, is in fact down on the previous year. Interest in travel destinations, as expressed by the research What to see in…?, also highlights this aspect, with foreign destinations returning to the top of Italians' searches, after a year of preference for Italian cities.
Searches in the vicinity
Nearby searches prove to be one of Google's most useful features. In fact, the trend of searches that users perform via the keyword 'near me now' is constantly increasing (source: thinkwithgoogle). And this underlines the importance for companies and businesses operating in local markets to implement management actions on tools such as Google My Business and Google Maps to find new customers and expand their turnover.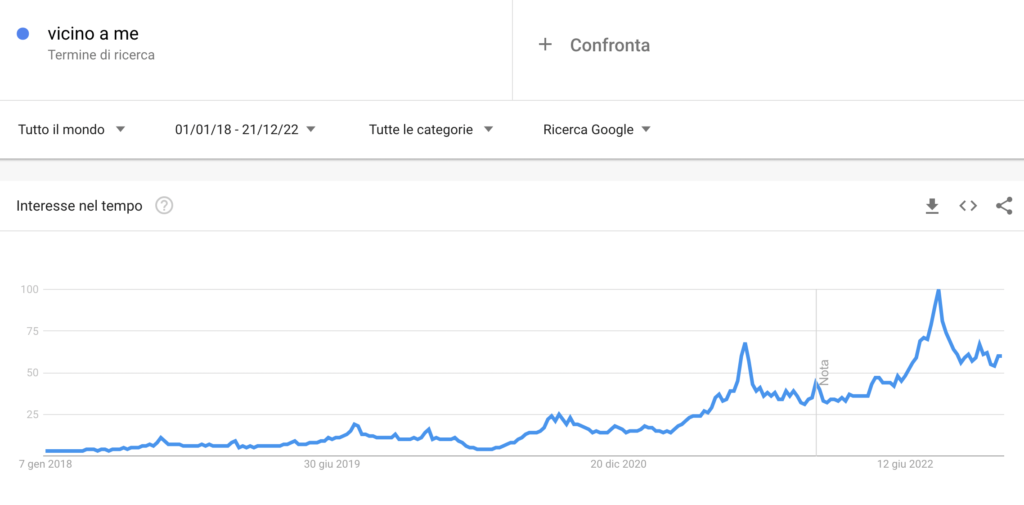 Google searches 2022: three insights on finance and inflation in the world
The economic uncertainty we have been experiencing in recent months has brought terms such as inflation, rising cost of living, and interest rates into our daily vocabulary.
The search for topics related to economics and finance and for solutions to optimise the management of one's personal budget saw a surge.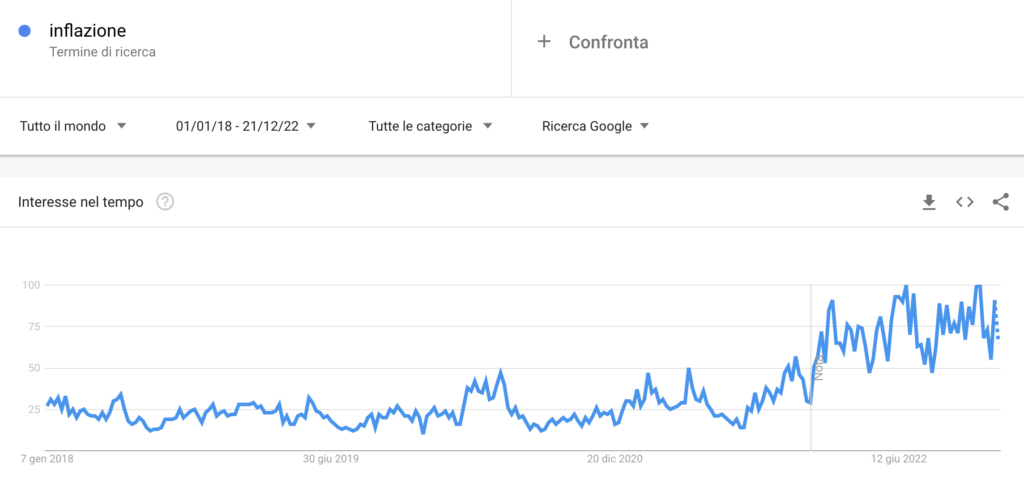 An analysis of millions of fast-growing search terms in Europe, the Middle East and Africa, source Google Trend, revealed three significant insights:
Financial questions
What is inflation? has seen a surge in searches around the world, a sign that people want to know and explore even complex topics related to the economic times we are experiencing. A 20% increase in worldwide searches occurred for the keyword because associated with expensive. Also on the rise were searches with phrases such as bonus come chiederlo (bonus how to claim) in Italy, why is butter so expensive in the UK, warum steigen die preise (why prices are rising) in Germany,  what can I afford worldwide and when is fuel price going up in South Africa.
Saving money and saving the planet
The latest Google Search trends also show that, in some cases, inflation and sustainability go hand in hand. With consumers looking for ways to cut costs, many of the cheaper alternatives are, unexpectedly, more beneficial to the environment. Just think of the increase in second-hand and used goods searches, even in Italy (source: Google Trends, Italy, 1 August 2021-30 July 2022), perhaps also due to the boom in resale apps such as Vinted, Vestiaire Collective, etc. Another area where the sustainable option has recently aligned with the cheaper option is related to energy. With rising prices, people are looking to save money and undoubtedly, less energy consumption benefits the environment. This was found on Google Trends, where search interest for how to save energy peaked worldwide in 2022. In addition, there was an increase in search interest for phrases such as hora más barata para poner la lavadora hoy (cheapest time to turn on the washing machine today) in Spain, elpriser time for time (hour-by-hour electricity prices) in Denmark and does switching off the geyser save electricity in South Africa.
Luxury survives in Google searches 2022
Nevertheless, we also saw an increase in searches for small pleasures and luxuries. Search interest has increased for items such as luxus sonnenbrille (luxury sunglasses) in Germany, luxury perfume in the United Arab Emirates and luxury underwear in the UK. Moreover, people plan major purchases differently, which are not always cheap in the short term. For example, there has been an increased search interest in terms such as electric car incentives in Italy, subventions panneaux solaires (subsidies for solar panels) in France and subsidie warmtepomp (subsidies for heat pumps) in the Netherlands. These data show that, even in a context of economic uncertainty, people try to find the right balance between 'cheap' and 'luxury'; they are willing to wait and invest in more expensive purchases but look for alternative ways to fit into their budget.
In conclusion, search trends give us an idea of what matters to people at a given time, how they feel and what they are looking for. In an era of rapid change and uncertainty, it is crucial for companies, small businesses and marketing professionals to look at short- and long-term trends in order to set budgets and plan effective campaigns for a hopefully more financially stable future.